Virtual Access GW6600V Series routers provide resilient, secure managed connectivity for business, financial, M2M, and retail applications. Features include dual path using VDSL with LTE, CDMA450 , 3G backup, dual SIM for network resilience, advanced security including DMVPN, and support for devices that rely on legacy interfaces such as ISDN, PSTN, and Leased Line.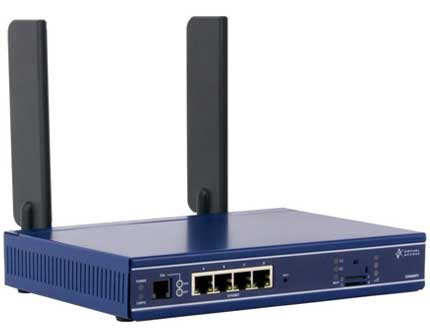 VDSL2, ADSL2+ DUAL RADIO, DUAL SIM ROUTER WITH 3G or LTE BACKUP FOR HIGH PERFORMANCE RESILIENT BROADBAND
---
Designed for managed network providers, GW6600V Series routers provide secure WAN connectivity for internet and private networking environments over VDSL, ADSL2+ and 3G/LTE broadband paths and incorporate optional 802.11n WiFi connectivity.
Features
VDSL2 and ADSL2+
LTE or 3G interface
Dual SIM sockets
Dual LTE radio option
Automatic failover to LTE or DSL
Four port GbE managed switch
WiFi 802.11bgn, optionally 802.11ac
Optional dial modem interface
Advanced security
Applications
Secure branch office connectivity
PCI compliant retail/Point of Sale
Financial ATM
Remote security monitoring
Lottery and gaming
Utilities
---
GW6600V-F